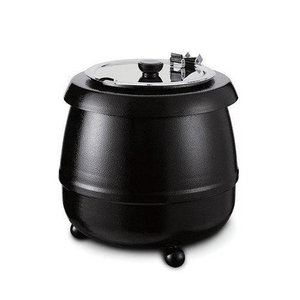 Available for in-store purchase or direct contact only.
Contact a sales representative to receive the price and product availability.
This soup kettle warmer is an excellent addition to any restaurant, catering service, or buffet line that needs to hold soup, gravies, stews, or nacho cheese at food-safe serving temperatures. Its simple manual control knob allows you to hold product at hot temperatures, while its stainless steel construction with bold black coloring is durable, attractive, and a breeze to clean.
Details
Great for keeping soups and sauces warm
Adjustable temperature knob
11 qt. stainless steel pot
Stainless steel inset and soup labels included
220V, 400W