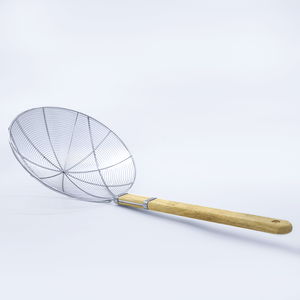 Cook noodles and other Asian specialties with ease with this round bamboo-handled skimmer. The elongated handle is an added safety precaution while deep frying or skimming, and the concave, mesh net captures your food while straining oil and other liquids. Galvanized steel wires make cleaning this skimmer a breeze, and the bamboo handle is moisture and swell-resistant, ensuring you that odors and other bacteria will not get trapped in the fibers. An eyelet offers you the option to hang your skimmer for storage.

Details
Bamboo handle is swell-resistant; stronger than wood
Elongated handle adds safety while deep frying or skimming
Galvanized steel wire is easy to clean
Strong, dent-resistant mesh material
Hanging eyelet for storage
Dimensions
Blade Diameter: 12.5"
Handle Length: 14 1/2"
Overall Length: 26 1/2"