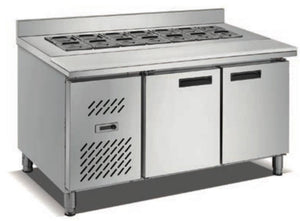 Available for in-store purchase or direct contact only.
Contact a sales representative to receive the price and product availability.
 With a spacious stainless steel worktop surface for slicing, dicing, assembling, mixing, and other food prep tasks, the unit features a backsplash for wall protection and a refrigerated storage space below. Because it's designed to act as a work surface and refrigerator, the unit effortlessly adds refrigerated storage space without requiring space devoted solely to its footprint. Its sturdy construction, and reliable insulation make this refrigerator a dependable choice, while its digital controls and convenient casters provide ease of use.
Details
Size: L1500 x W800 x H900 mm
Voltage: 220V/60 Hz
Input Power: 260W
Temperature Range: 0-10 Celsius
Cooling Way: Static
Refrigerant: R134a
Description: Two Door