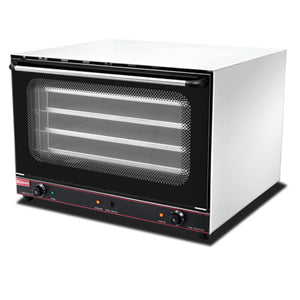 Available for in-store purchase or direct contact only.
Contact a sales representative to receive the price and product availability.
Convection ovens distribute heat evenly around the food, removing the blanket of cooler air that surrounds food when it is first placed in an oven and allowing food to cook more evenly in less time and at a lower temperature than in a conventional oven.
A glass cover allows the user to keep an eye on the cooking process.
Details
Dimension: L835 x W800 x H580 mm
Voltage: 220V
Frequency: 60 Hz
Power: 6.4 kW
N/W: 56 kg