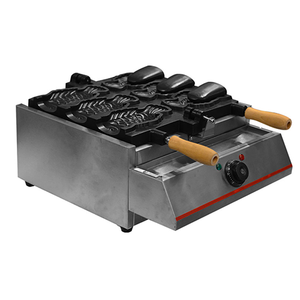 Available for in-store purchase or direct contact only.
Contact a sales representative to receive the price and product availability.
This electric Taiyaki machine features six cast iron slots of open mouth taiyaki. This popular snack has been becoming a trend all over Asia, particularly in Tokyo, where it originated. Particularly new in the local market, this food trend is sure to become a hit. Fill it with options of matcha to black sesame ice cream, or even simply just vanilla ice cream, making it a fun and unique snack! With a cooking power of 3kW, this taiyaki maker provides you with consistent and delicious results every time. It has a stainless steel body to simplify maintenance and cleaning for its users.
Details
Size: L700 x W380 x H260 mm

Power: 3kW

Voltage: 220-240V / 50-60 Hz
N/W: 17 kg