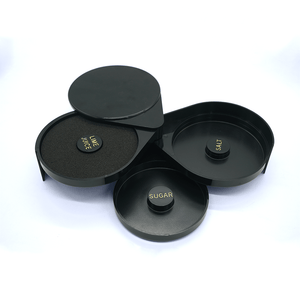 Set up the perfect margarita station with this glass rimmer / margarita salter with 3 compartments. Featuring 3 separate compartments, this unit keeps all the necessary ingredients for perfecting your margarita in one convenient location. Each of the compartments is specially designed to hold salt, sugar, or citrus juice. The citrus juice container holds a durable sponge to hold your lime or lemon juice. Simply dip the rim of your glass into the sponge and immediately dip into either salt or sugar, depending on the customer's order, for a beautifully rimmed and appealing presentation.
For easy cleanup, this unit collapses quickly and neatly, keeping contents contained for spill-free storage. Each compartment fits glasses with rim diameters greater than 1 1/2" and less than 5 1/2". Perfect for your bar, Mexican restaurant, tiki hut, or other establishment serving margaritas and mixed drinks, this 3 compartment salter will add an extra flare to your bar setup!

Details
3 compartments keep ingredients separated
Durable sponge holds citrus juice
Collapsible for spill-free storage
Ideal for bars, Mexican restaurants, tiki huts
Dimensions
Length: 7"
Width: 6 1/4"
Height: 3"
Compartment Diameter: 6"