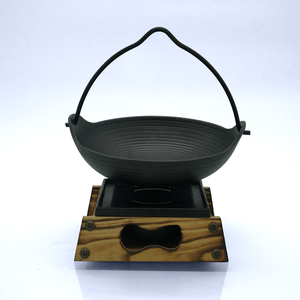 Crafted of cast iron with swinging handles and a wooden lid, our sukiyaki hot pot is the perfect stovetop-to-table soup and stew bowl. Available in a small single-serving size or a larger size for family meals, it's perfect for simmering your favorite combination of sliced meats, vegetables, noodles, rice and sauces. 

Details
Crafted of cast iron with wooden fire stand
Small serves 1-2, large serves 4-6
Pot is stovetop and oven safe
Always use oven mitts to handle hot cookware; place on trivet or heavy cloth to protect countertop
Hand wash without soap and dry immediately; rub with light coat of vegetable oil after every wash, avoid using metal scouring pads
Made in China

Dimensions
Length: 8"
Width: 8"
Height: 5.5"