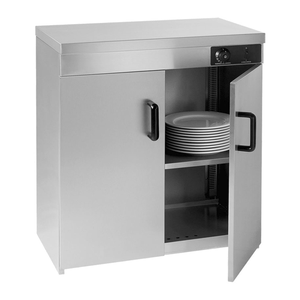 Available for in-store purchase or direct contact only.
Contact a sales representative to receive the price and product availability.
Use this stainless steel plate warmer cabinet for a simple way to serve warm dishes, while also keeping them fully enclosed for optimum sanitation! This unit is designed to hold plates and is a perfect addition for restaurants, hotel buffets, and more. 
Details
Size: L750 x W510 x H855 mm
Dispenser features own thermostatic control
Holds plates in two levels as shown

All welded, stainless steel 201 construction with 1.0 mm thickness
220V